the ornithological society letters
August 16, 2007
lenny writes: "i wonder at the places you left prints. your steady hands no less for being small. send hope my love and chance the rest she craves. my heart became a bird and flew away."
our dearest ms. emily cooper, the last of the original passerines, has spread her wings and taken flight. we know it would be folly to carry on without her. but fear not: you have not heard the last of us; we intend to go down with the ship. before the winter, we shall make available to you a four-disc boxed set of every recording the band has ever made and never released, including two full-length albums, one EP, and a disk of rare and ridiculous field recordings. check back here in time, as you will be able to download all of it for free!
thank you all for your support over these short years. keep in touch!
January 19, 1893
we're sorry it has been so long since we've talked. we've got so much to tell you. please sit down. (using a computer standing up is kinda weird, anyway, silly.) have some tea while you're at it. ready?
since we last spoke, we lost a dear passerine, the lovely ms. lixian hantover, to a rigorous academic schedule. we wish her all the best in future endeavors; please check out her myspace page for lixian news from now on.
fortunately, we have replenished our ranks with the help of the amazing mr. j.j. mack: song-writer, multi-instrumentalist, and professionally good-natured gentleman. we are very happy to welcome j.j. to the nest, and we hope you get to see this new line-up in action as soon as possible.
which brings us to: EXCITING NEWS. The Chicagoist has asked us to play at their important and high-profile CTRL-ALT-ROCK show this February 8th at Double Door!. We're honored, flattered, and determined to do our part and debut several new songs at this show. If you see one Passerines show this band, make it this one. Check for more details on the shows page!
August 13, 1974
the passerines have returned triumphantly from Athens, Georgia and PopFest 2006!
neat-o local label Happy Happy Birthday To Me (with whom we're in talks about helping us promote and distribute our record) hosted almost 60 bands in two clubs over five glorious days. hooray! it was the best, and we're excited to have been asked back for next year already!
work has nearly been completed on a secret from-beyond-the-grave recording of the old passerines line-up. expect a robust EP to this effect soon!
speaking of recording, we're collecting twigs, thread, and branches in our attic hideout in preparation for our first ever self-made recordings, to feature our current live favorites... stay tuned!
April 3, 1898
the passerines are on the cusp of a new era! we have recruited a new member, the talented and lovely ms. lixian hantover. being a duo was dynamic, but lacked that special something (bass).
in other exciting news, mr. loren jan wilson has finished mixing and mastering our first full-length album! we will be shopping it to labels and preparing artwork in the coming weeks. at the risk of sounding immodest, it's phenomenal.
we expect to have severals shows in the coming weeks and months, but we have few confirmed details at the moment. check the shows page for information on where you can catch our new line-up (and killer new material) live and in person.
February 9, 1937
more sad news: our founder and our oldest friend, ms. sara johnsen, has flown away to the west coast. she will be sorely missed. by us.
the passerines are now media darlings! look for mentions of us in recent editions of timeout chicago, chicago weekly, and most recently in this week's chicago reader!
thank you to our friends tim splain and will white for coming to our aid during this transitional period. if you missed them on the radio, come see the finale of their succesful run with us tomorrow night at the hive show!
November 4, 2005
the passerines are featured as the demo of the week on indiepages! our official band response to this is, "yay!"
this week you can download our ep, but you should check there other weeks too, as they always post good stuff.
er, you know, obviously. :)
October 24, 1982
chicago. humboldt park. monday, october 17, 11:30PM.
after band practice, a young lady drives up sacramento through the beautiful, quiet park, towards her home, listening to moby with the windows up, when suddenly...
BANG! BANG!
the question remains: who tried to kill sara?
realistically, we think it was an accident.
you never know, though....
take care and be safe, citizens!
October 3, 1990
we have not vanished! we have retreated to regroup and will get back to you shortly. thank you for visiting!
September 7, 2005
today i have sad news to impart: our dearest dk bird has flown away to grad school. we will miss her.
we've been relearning songs as a 3-piece, and tonight is our new debut. we'll see how it goes. the practices sound good. we have lots more tricks up our sleeves, so be prepared. you are coming, aren't you? we would love to see you!
lest our integrity be doubted, we would like you to know our picture is in the reader this week.
please note the show today (wednesday, sept 7) has been moved from the subterranean to the beat kitchen.
August 17, 1978
no one knows about cats in bags. it may be from one of: keeping a cat of nine tails in a bag on naval boats (thus bringing it out for occasions of punishment--doesn't make sense for the meaning of the idiom), a vendor sneakily selling a bag supposedly containing an edible small animal but really containing a cat (plausible but tame!), people doing archery practice on cats in bags, people swinging cats in bags (weird), putting cats in bottles (shakespeare), etc. i heard that the song love cats was about putting cats into bags to drown them, originally, but then robert smith changed the lyrics to make it more appealing to sane people. also, that seems to be a common way to kill cats, put them into bags. cats get upset in bags and if you accidentally let them out before they are dead, they probably will be really freaked out. but still it wouldn't surprise you to find there was a cat in your bag, but maybe it would surprise someone else if they saw, thus giving away your murderous secret? too many ifs. it remains a mystery.
tour=good. uh... there will be videos once i have learned about Compression.
overdubs=good.
we are playing a ton of shows these days. keep september 7 and 17 written on your hands for us. xo, sara
August 3, 1952
we've been listening constantly to our new record! preliminary mixes thereof. we're going to mix it again and add some overdubs, with a goal of getting it all done by the end of august. really.

we also have dates booked for touring purposes beginning next week. we have a show tomorrow. we have an unnerving quantity of coincidences.
July 28, 1821
what we have been up to

July 21, 1718
gabe writes:
this just in:
long known, an anagram of my first name:

a gerbil

recently discovered, an anagram of my first and last names:

a gerbil claw in me



THIS MEANS SOMETHING.
July 19, 1848
the show was cool and everyone loves us, especially little kids, who danced to our last few songs. we sold some EPs! wise emily made birthday cookies instead of cupcakes. she shares her wisdom in several video segments for your enjoyment here.


July 1, 1862
hello july!

we took a little break from shows for recording, but we have also been writing new songs at an alarming rate. we will be rocketing out of the studio to debut them on july 15 at university of chicago. the show is principly for the reunion of everyone's favorite mathemo boys, millimeters mercury, which by the way is gabe's alma mater. the july 15 show is also emily's and sara's birthday party. there will be cupcakes! so be prepared.

meanwhile. my other band starlister is playing the empty bottle tonight (friday), with the lovely scotland yard gospel choir. so if you are not already planning to hang out at home, dancing around to your pirated copy of hyde five, you should definitely proceed directly to the empty bottle at 10 pm, and tell them you are there for the synthpop.

now my anchor tag and i are going to get a well-deserved cup of coffee. see you later!
June 13, 1942
gee whiz i've been lazy about updating. but not about anything else! we are like a record-making machine these days, for the most part, as we have laid down 12 new tracks in addition to the three from the EP. we are also working on new songs, our summer suntans, tuning our many vintage keyboards, and moving from one apartment to another. life is good.

i didn't sleep at all between yesterday and today and tonight my other band health&beauty is playing at subterranean, at the corner of milwaukee north and damen, under the blue line damen stop. so if you are 21+ and yearning to hear some beats and guitars and generally excellent art-rockery you should totally stop by there around 10PM with around $5 in the pocket of your dancing pants.
May 25, 1953
check out this awesome review of hyde 5!!
also, if you are into this sort of thing, you can check out the hyde park records website, which features documentation of our good time EP release party there, including photos and footage.
May 18, 1910
have you heard the EP? did you like it? did you learn its secrets?
we are recording again! with loren. 11 or 12 songs, all week long.
finally, we're playing summer breeze! also we have a car now, but only until sunday. so in between all this stuff we will be cruising up and down lsd pretending that gas is not expensive.
May 11, 1894
the passerines EP release show is Thursday night (TOMORROW!) at 8pm at hyde park records. we finished the packaging and it looks pretty hot. we are enthused. seriously. whoa.
April 26, 1986
DK:
And the next EP* can be You Look Familiar Not Enough Get Lost?
You Look Familiar Come Here Often Not Enough Get Lost Loser
Not Enough Leisure I Say
Houdini and The Loser Come Here Often
*[Next, you say?] [why yes. our first EP is DONE DONE DONE.] [yeah right.] [no really. we are packaging it and setting up a release show and sending it to venues and labels.] [you mean like, you haven't done it yet.] [well, no, not quite yet. but we've been busy!] [right.] [seriously. this is not as easy as it looks.] [you mean watching television or playing mariokart?] [shut up!] [make me!]------
April 13, 2005
Chicago Goes Dark for a Few Million Feathered Friends
April 12, 2005
hello there again. this weekend, for us, possibly also for you, was a lot like being run over by rock, or like being run over by several midsized cars full of smaller quantities of rock. evidence.
i don't want to say it's surprisingly good, but damn.
March 24, 1834
we recorded a last little vocal harmony on our track for the new mr hyde comp, hyde five! tomorrow night is the next assembly party, which means the comp is inching closer to completion.

it is close race with our dear little EEP, which we hope to release at our next show, on april 9. we are very excited to be playing WHPK's pure hype on april 8! the april 9 show is at BUDDY and we are opening for CALVIN JOHNSON. this is also cause for excitement, celebration, and excessive use of caps lock.

we are going to be making some changes around this website. look out! you may have noticed that we've already made some changes, but those are just fake changes to throw you off.

i gotta go.
March 1, 1803
we are listening to the first mix of "fireflies" as we type. we have created a genre called roller rink rock and are very excited on our own behalf. the demo may be coming soon!!

in the meantime, we are learning new songs, watching a lot of marilyn manson videos, and not updating our webpage. thank you if you came to visit us at gunther murphy's. those of you who didn't come, you know we totally wrote a song about you and you'll never hear it now. kick yourselves! thank you.

here are some pictures we like, but did not take.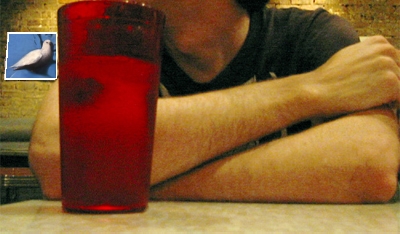 goodbye february!

love,
us
February 17, 1913
no EP before saturday's show.

however, we have purchased buttons from busy beaver. the buttons thus far have
been well-received. for example, look how happy they make this monkey!



other lucky owners are taking our buttons very seriously.



come to the show to get a badge of your very own, and experience the joy and gravity of the passerines!

also, be sure to check out other gabe-related activities before you plan your weekend!
January 30, 1948
the birds wrote a note for you scratched into the sand if you care to see it you must guess the beaches that we frequent. it's a secret. the cd is being mixed. we are practicing like crazy because we like to. we are going to play every song we know at gunther murphy's in a few weeks. we will also sell you cds at that time, if you like. very sweet and dreamy. come and see!
January 7, 1797
January 5, 1993
the birds, done migrating for the winter, met last night in the snow and hid under the living room floor to play music again.
the schedule for this ep is that it will be done by february. the overdubs have been crafty. there is more work to do tonight and tomorrow night. after that we will record some vocals, and then we will be done.
in other news, check out these beautiful recordings of becky, made by loren. [this link works properly now. oops!]
December 15, 1859
dk writes:

I had my sister listen to the first overdub experiment. Here is our subsequent conversation (over IM):

rachel: what is up with this sound
rachel: it sounds like a crazy person wrote this song
me: our options were limited on the keyboard we were using
rachel: hahaha
rachel: send that to mom maybe she'll buy you a keyboard
December 7, 1988
we had to nearly kill him to convince him to do it, but we have engaged the illustrious loren jan wilson to record our demo three-song EP on everett ave. more later when i am awake enough to avoid saying writing typing oops typing anything incriminating.
December 1, 1994
it has been a busy pair of weeks. after a tense series of modular rehearsals, last night the passerines nearly fell to squabbling, with deirdre sawing away at the messiah several blocks away, emily unwittingly singing words 1036 through 1111 of her stravinsky paper in the place of actual lyrics, and sara playing the piano with her face. only gabe kept his cool, denting several empty cookie tins with calculated disinterest. after practice was over, the band retired to the next room to blare marilyn manson as a sort of sonic pep talk while looking at pictures of happy babies. we'll see you friday, if we last that long.
November 29, 1990
recently we acquired a carton of messenger pigeons. aren't they cute?
you may use them to send us your messages. please don't be afraid to tell us everything.
we want to understand.*
*these little birds are turning out to be relatively useless, which is unfortunate since their upkeep is somewhat expensive for a band of meager means. (they require many small meals of gourmet pixellated bugs, even though they are not using that energy to fly messages as we'd intended. you can't feed messenger pigeons the same cheap garbage fed to city pigeons, or they'll go rogue and poop it all over your car,
or worse.
)
last updated October 24, 2005